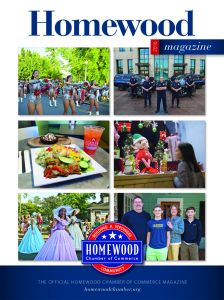 The Homewood Chamber of Commerce announces the 2023 edition of Guide to Homewood. This magazine will have a wide area of distribution including real estate companies, health care
providers, financial institutions, Chamber members and advertisers, and an online digital version. Purchasing an ad in Guide to Homewood now extends your message year-round. As always, we distribute the printed version of the magazine and host the online version for a full calendar year.
Click Here to view the rate card.
Contact Keith Lott (251.458.3707) with Alliance Publishing Group to purchase your ad today!