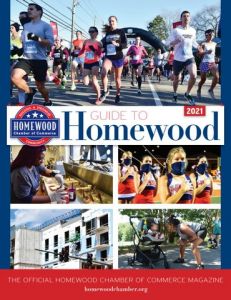 2021 Guide to Homewood
Click HERE to read our 2021 Guide to Homewood. With so much going on, it is a great way to catch up with everything going on in our bustling town!
Want a copy for yourself? One is mailed to every Homewood Resident, and you can request one from our office by calling 205.871.5631 or emailing events@homewoodchamber.org.
Want to advertise in the 2022 Guide to Homewood? Contact Warren Caldwell with Starnes media at warren@starnesmedia.com.